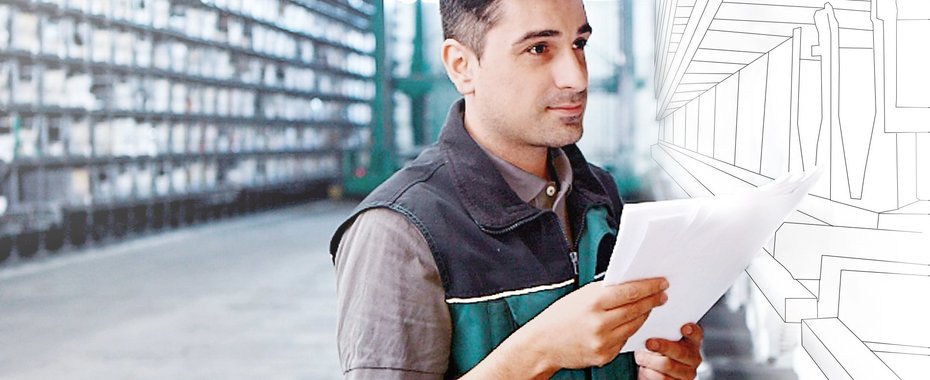 VBH is your professional brand for window and door fittings. Our offering encompasses much more than simply retail and logistics. We see ourselves as a highly competent partner providing our customers with an all-in-one service. This is why we offer comprehensive consulting services along with a range of additional services designed to make life easier for door and window fabricators. In addition to our online services, we are always happy to be there, in person, right where you need us. Talk to a VBH employee in your area.
CE-fix – the online platform for obtaining the CE marking for windows and doors
With its online platform CE-fix, VBH offers an affordable and user-friendly expert CE marking solution for the entire window and door industry. The central system platform contains all the relevant material groups such as wood, metal and PVC solutions. Using this internet portal, manufacturers can obtain all of the necessary CE documents for their individually planned systems at the touch of a button.
As a system provider, VBH makes available all of the necessary CE documents, including the product passport and system description in the form of component sheets, processing and installation information and instructions concerning in-house production monitoring. Depending on the size of their operations, users can also choose between order-, workplace- or process-oriented protocols.
Collaboration with ift Rosenheim
The CE documents are based on hundreds of individual checks and inspections performed by the renowned ift Rosenheim Testing Institute on behalf of VBH. The platform is continuously updated to include new systems. If a design deviates slightly from the initial type test, users are offered alternatives from which they can choose. They can also request additional inspections by VBH. Expert mode and premium access offer additional services such as certifications of thermal and noise protection.
From as far back as April 2008, CE markings can be obtained quickly and easily thanks to the tried-and-tested online solution CE-fix from VBH. The platform is aimed at all members of the window and door construction industry and saves time and money for both small and large companies alike. For every design, the system checks each individual component used in the overall design. It then compares the design with hundreds of individual checks performed by ift Rosenheim. Millions of potential combinations ensure that a manufacturer's individual design is accurately recorded.
The outcome is easy-to-understand test certificates and useful documentation that conforms precisely with the manufacturer's design, including:
Validation of the initial type test (ITT) in the form of a product passport
Component sheets
Operating, maintenance and processing instructions
Installation instructions
Protocols for in-house production monitoring
Care and operating instructions with customer's own logo
Logo All of the most important information is automatically entered in the forms. All that manufacturers have to do is carry out production monitoring in their own business. This is now easier than ever thanks to VBH's protocols and documentation that is not only suitable for everyday business but also instantly easy to understand. Important export documents are also available for download.
Free hotline
Platform users can call the free CE hotline (0800/5 56 63 21) at any time for quick and expert assistance in all matters relating to the CE marking and CE-fix.
CE-fix in expert mode – individual certifications with no additional costs
CE-fix expert mode allows users to obtain individual certifications for windows and doors that deviate from standard designs – in just a few steps and with no additional costs. For example, certificates of performance for windows with higher heat insulation values can be issued. For new Ug or psi values, the system calculates within seconds the new properties and prepares the corresponding individual certification.
Customer consultations with CE-fix
This is why numerous manufacturers also use expert mode as a sales tool. Clear and concise documentation ensure that the improved performance characteristics are instantly identifiable. The individual certifications contain easy-to-follow pictures rather than long-winded, theoretical descriptions and explanations. This means that you can show builders and architects all of the documentation for the planned design directly on a laptop. As a result, your customers receive reliable documentation stating all of the relevant design details – including the manufacturer and product name – because the master data stored in CE-fix cannot be tampered with. The correct calculation is confirmed by ift certification. CE-fix expert mode is the only industry solution that offers this capability.
Reliable heat calculation and test certificates – CE-fix premium access
Premium access to the CE-fix platform offers quick, inexpensive and detailed heat calculations and test certificates for window and door designs. The additional test certificates can be downloaded quickly and easily. The following premium access options are available: Premium Access Heat Calculation and Premium Access Test Certificates.
Premium Access Heat Calculation
Via Premium Access Heat Calculation, users receive with the thermal transmittance calculation an individual certificate in accordance with EN ISO 10077-1:2006. Like the standard heat calculation, this is based on the product passport created earlier. The high degree of individualisation of the calculations is all thanks to the extensive selection of wood. More than 26 types of wood are stored in the system, also including a range of special wood blocks such as airotherm and Accoya. The drainage systems such as water drainage channels and thresholds can also be individually modified.
Premium Access Test Certificates
Users of Premium Access Test Certificates in expert mode can access a special download area. This contains, in addition to the product passports, a range of test reports on noise protection, air permeability and resistance to wind loads.
Flat rate or prepaid
The premium access options can be used as flat-rate or prepaid access. Flat-rate access costs €1,250 per year, which gives you unrestricted access to the entire Ce-fix offering. It allows you to perform as many heat calculations as you need over the course of one year. You can also download as many test reports as you want.
You can alternatively opt for prepaid access, whereby €350 is credited to your CE-fix account. €20 is deducted every time you perform a heat calculation and €50 every time you download a test report.
System reliability for window and door designs
Heavy rain, storms, major temperature fluctuations: the rise in extreme weather conditions is leading to more stringent requirements regarding door and window designs. This is why VBH is helping manufacturers to design windows that are viable for the future and to choose the right tools for the job. The CE-fix experts at VBH possess extensive testing experience. We can provide our customers with specialised support in the development of cost-effective designs – for example, when it comes to upgrading profiles to IV78 and IV90.
Support for construction and tool requirements
With our knowledge, we support our customers independently and objectively in the construction of new products and definition of the tools needed for this. We look at not only the single-sided optimisation of the thermal insulation, but also the increasingly stringent requirements regarding the static balance and robustness of new constructions. Of course, you also benefit from our experts' up-to-date knowledge of standards and requirements. By performing a detailed analysis of the components and coordinating all of the elements of a construction, we can optimise the overall system, minimise risk and improve reliability.
All suggestions for improvement are confirmed by CE-fix test reports. The system platform focuses on not only the CE marking, but also – as has been the case for a long time now – the overall system reliability of the constructions. To ensure this, all of the individual components of a construction have to be coordinated with each other. Thanks to its comprehensive database and numerous individual checks, CE-fix offers the perfect basis for ensuring this. When it comes to driving rain, for example, profiles can often be improved in terms of drainage. The wind load, too, affects the leak-tightness and stability of the construction. Our common aim with the manufacturers is to ensure window designs that are viable for the future,and optimised tool deployment.
greenteQ Mobil – practical customer consultation on-site
Practical, clear and comprehensive: with greenteQ Mobil, we travel to where the customer is and present everything that's needed for the professional installation of windows and doors. This includes not only the greenteQ Climate Conformal System and greenteQ threshold system, but also relevant accessories for production and products from the "Security & comfort" segment. With its mobile, hands-on demonstration concept, VBH is breaking new ground in communication and customer consultations.
Where can we help you?
The VBH experts can travel with greenteQ Mobil to customer training courses, in-house trade fairs and construction site briefing sessions. The need for education and information is especially high for window installation in the insulating layer. With greenteQ Mobil and the greenteQ Climate Conformal System, therefore, VBH offers a flexible solution and comprehensive, practical support. Our experience on construction sites also shows that workers often do not have the right drills, screws or tools at their disposal. These first have to be purchased, a process that is extremely time-consuming and leads to delays in installation. greenteQ Mobil allows you to purchase the right product right where you need it. We can also hold training courses for the installation partners of VBH's customers.
What we can offer you:
Training in the professional window installation of greenteQ products
Construction site briefing sessions for the greenteQ Climate Conformal System
Presentations of the greenteQ threshold system
Advice on tools, aids and other products
An exciting addition to your in-house trade fairs
Training for your installation partners (subcontractors, dealer customers)
Automatic catalogue creation for a professional image
The automatic catalogue creation service gives VBH customers the opportunity to create catalogues and offers in a highly professional manner. Free of charge and in just a short time, they can create tailored offers bearing their own logo and containing professional product photos from VBH.
Catalogues can be created quickly and easily using the VBH Excel tool, which can be downloaded from vbh24.de.
Here's how it works:
In the online shop, select the article that you want to offer.
Once you have set up your shopping basket, you can use the VBH Excel tool to create illustrated catalogues and/or price lists instantly at the click of a button. The price calculator provided with this feature will help you here. You can also change both the text and layout of your documents and incorporate amendments.
Once you have finished creating your catalogue, you can print it out or send it as a PDF.
Technical requirements
To automatically create a catalogue from the VBH online shop, you need Excel and the VBH Excel tool, which you can simply download.
Here's how you do it:
VBH Excel tool: download the zipped file and unzip it to a subfolder on your computer.
Open the Excel tool (activate macros) and save the newly created subfolder as a standard folder via the link <Offlineverzeichnis neu erstellen>. 
Place the articles to appear in the catalogue in the shopping basket on vbh24.de.
Now download the shopping basket. To do so, click "Merkzettel (Offlinekorb)" [shopping list (offline basket)] in the shopping basket.
The file extension is: xx.vbh. Move this file to the subfolder mentioned in step 2. 
Now open the VBH Excel tool. Here you can see all of the offline baskets saved in this subfolder. To see all of the articles that a basket contains, simply double-click the relevant offline basket. 
Now start <VK-Simulation> and then <Katalog erstellen>
Personalised brochures and flyers – persuasive customer communication
Attractively designed information documents are part and parcel of a professional corporate image – regardless of whether you are a large, medium-sized or small business. Commissioning an advertising agency, for example, to create these documents costs time and money. VBH offers a much easier and more cost-effective way. Our customers can use existing VBH documents and personalise them with their own logo and company address. A quick and easy way to create a highly professional image. Your VBH expert advisor will be happy to talk through the details with you.
"Article number click" function – the easy way to order directly from the catalogue
All of the latest VBH catalogues and VBH brochures are available for browsing or to download in the catalogue forum on vbh24.de. Most of these files now include the useful "article number click" function". This means that customers can simply click the VBH article number to call up details of the article, find out about relevant accessories and order the item directly.
The VBH YouTube channel – online installation instructions
Visit the VBH YouTube channel for a series of videos containing installation instruction for windows and doors.
www.youtube.com/user/VBHDe
Storage location optimisation and labelling:
With the LOGOS e-procurement system, VBH provides its customers with an electronic system designed to optimise supply chain management. In addition to installing the LOGOS devices, VBH also provides support and advice to customers for warehouse management and storage area optimisation. We run on-site employee training sessions and assist them in the labelling of shelf spaces. We work together with our customers to create the required barcode labels.
VBH's existing product and order lists are used as a basis here. These can be supplied in a variety of file formats, which means that existing data records are already available for the most frequently used articles. The labels can be designed and personalised as required. VBH customers also have a wide selection of label holders and stickers to choose from. The label format and the information contained on the labels – for example, company logo – can all be personalised.